Denver, Colorado, is an outdoor lover's paradise. Resting about 12 miles east of the foothills of the Rocky Mountains, this hip, urban city has so much going for it, as there are plenty of highly-rated restaurants, live music events, and vibrant nightlife to explore. This bustling city is also just a short drive away from some of the best outdoor spaces in the world and is often referred to as the Mile High City thanks to its elevation standing at exactly one mile above sea level. From skiing and snowboarding at the mountain resorts in the winter to hiking, climbing, mountain biking, and more, there is no shortage of adventure to be found.

If you are aiming to make a move to the Denver housing scene, you have numerous neighborhoods to choose from. From Platt Park's charming tree-lined streets and quaint boutiques to Cherry Creek's abundance of fine dining restaurants and sophisticated atmosphere to Wash Park's proximity to Downtown Denver and namesake park, there are plenty of reasons residents love living here and the stunning architecture within.

Now, let's zoom in for a closer look at these three incredible neighborhoods and their vibe:
Cherry Creek

The Cherry Creek real estate scene features a landscape of remarkable properties, ranging from high-end townhomes and condominium buildings to both old and new single-family homes. Here, real estate seekers can find historic homes that have been updated to fit the times, with upscale amenities galore. These luxurious properties often feature expansive lots, multiple stories, and classic design elements.
Wash Park

Wash Park (the official name: Washington Park) is a prestigious residential neighborhood south of downtown. The vibe of the neighborhood centers on the park and the historic street of Gaylord. The park features two shimmering lakes, walking and biking paths, a playground, and tennis courts—it's a perfect place to unwind, meet friends, and recreate without having to leave the city. The homes here are refined and upscale, mainly consisting of sophisticated, spacious single-family properties. Many hearken back to the 20th century. i.e. Bungalows or Denver Squares. You will also find a considerable number of new homes that have the classic style, matching the old neighborhood or new modern homes with flat roofs, large windows, and updated amenities.
Platt Park

Platt Park promises a lovely atmosphere with lots of green space, unique boutiques, and an array of community events. For those on the hunt for Platt Park real estate, the community offers stunning homes. Bungalows are in abundance, with some English Tudors, a few Victorian homes on large lots, Denver Square designs, and new upscale duplexes and single-family properties along tree-lined streets and sidewalks.
Architectural styles
As you can see, Denver is replete with idyllic examples of many unique and classical architectural styles. Here is a walkthrough of these architectural styles and what you can expect to find on your house hunt.
Queen Anne/Victorian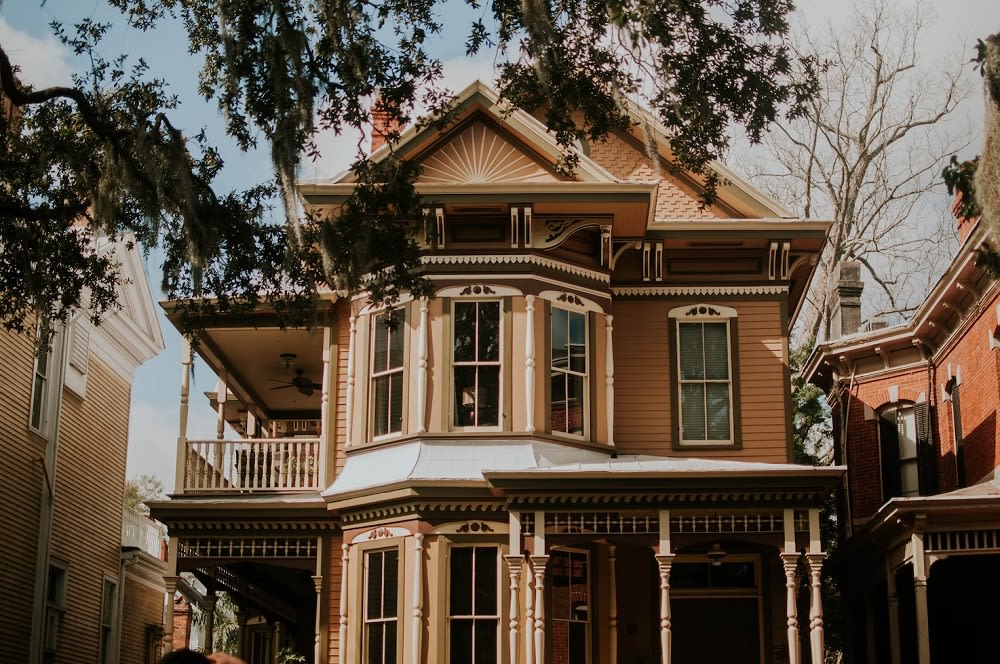 With steep roofs and unique facades, the Queen Anne style makes an impressive statement. This is an asymmetrical style of architecture from the Victorian period. These homes are simply splendid, emphasizing decorative details that make them stand out. Scalloped and painted shingles, turrets, expansive and decoratively shaped windows, and wrapping porches with ornate railings are examples of some of the lovely details that make this architectural type special. Queen Anne architecture was a return to a picturesque view of reality that inspired daydreaming and frivolity.
Italianate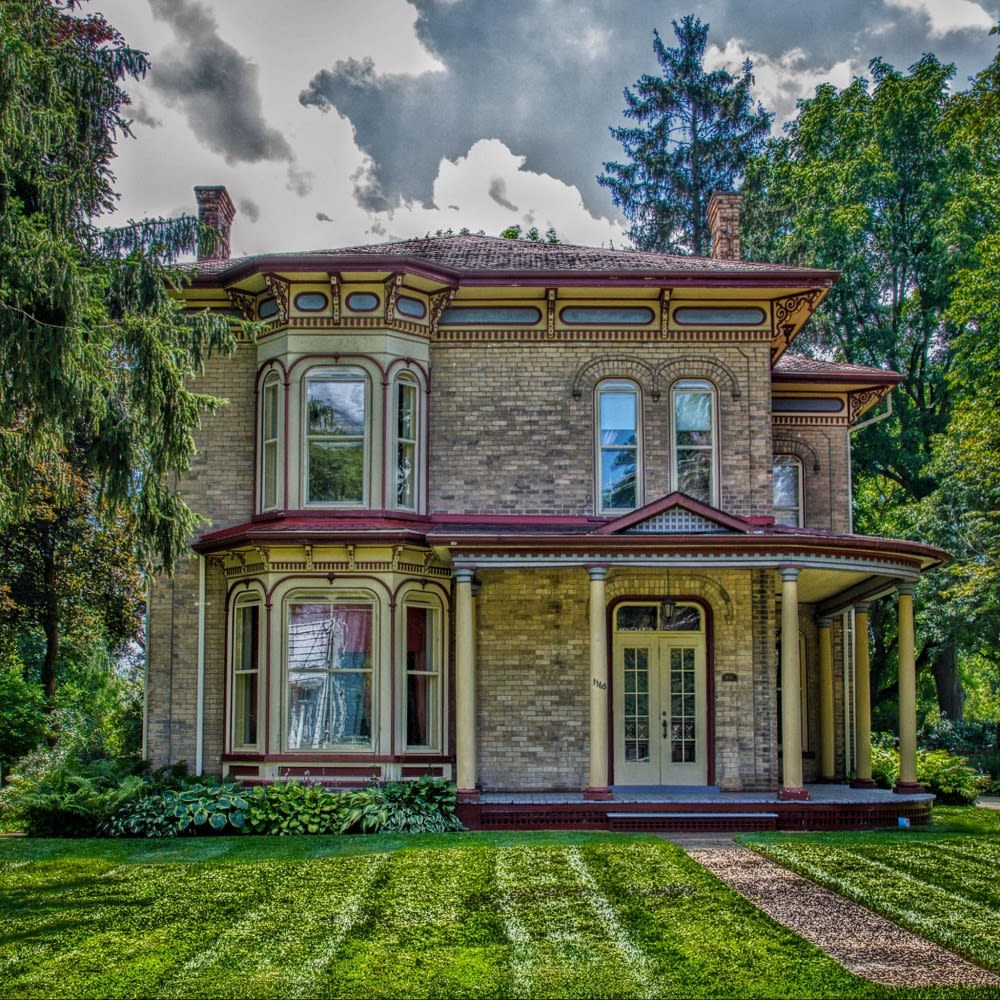 With rich detailing and a sophisticated presence, the Italianate style embodies the Victorian era and is showcased today in many of the retail buildings in the Denver area from the early 1900s. With wide overhanging features, molded windows, low roofs, and beautiful balconies, the Italianate design is a staple of Denver's history.
English Tudor

The English Tudor is another impressive style of architecture found across all three neighborhoods, created from 1890 to the 1930s. This revival design originated from the region of Tudor, England, and became popular in Denver in the 1920s. Tudor homes feature ornate brick exteriors, pitched roofs, as well as decorative chimneys on the front of the home, and an entryway gable. Tudor homes also showcase decorative wooden beams on the exterior that create a classic look. Many of these homes can be found in the Denver area, giving them an antique charm. As a smaller option, English cottages can also be found. Along with being different in size, these typically have interiors featuring arches and lower ceilings than their Tudor counterparts.
Craftsman Bungalows

In the early 20th century, the Arts and Crafts movement produced Craftsman-style architecture. Known for attention to detail and high-quality materials, these beautiful properties feature large rafters, exposed beams, front gables, oversized columns, and large porches outside the home to create an inviting space. They are often known for their use and portrayal of natural materials that are an ode to the beautiful nature that surrounds them. Additional features can include detailed wood trim, a more horizontal shape, and brick chimneys.
Denver Square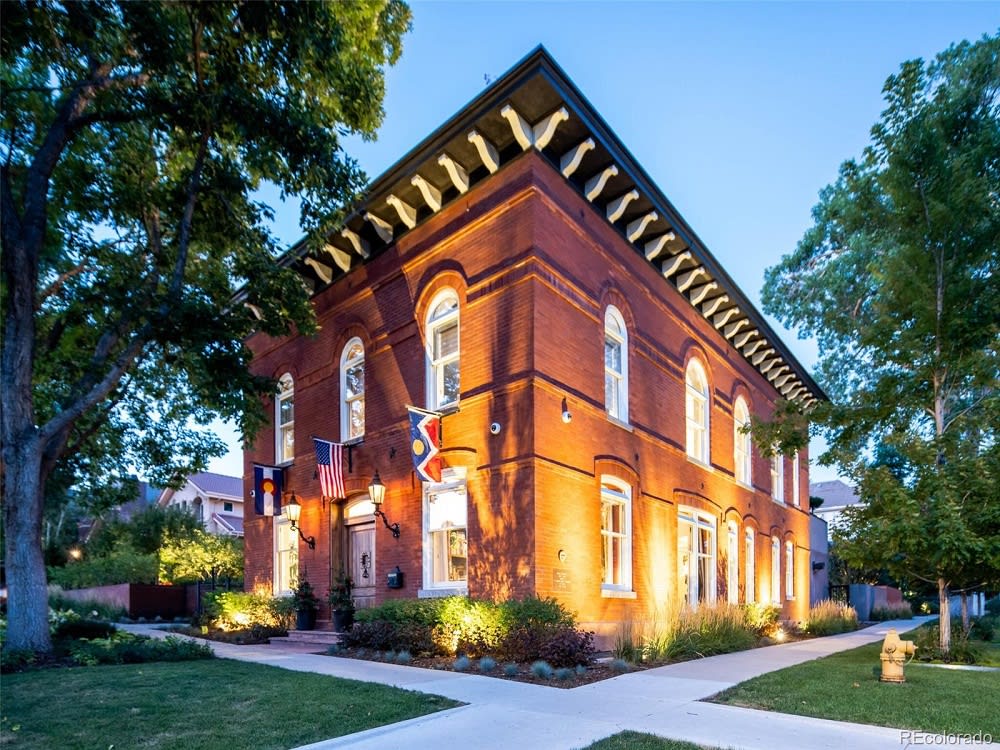 Photo courtesy of Kimber Ward
Denver Square homes, which were built between 1900 and the 1930s, showcase a foursquare profile. Although these homes were popular during this time, the name "Denver Square" wasn't actually coined until the 1980s. These are two-story homes built on a square profile, typically with four rooms up and four rooms down, featuring unique features that inspire and impress. Some use decorative wood or brick accents, and most Denver Square homes also feature an expansive central porch that creates a level of curb appeal. Other common features include a boxy shape, wide windows, and an understated style that allows the special accents to stand out.
Dutch Colonial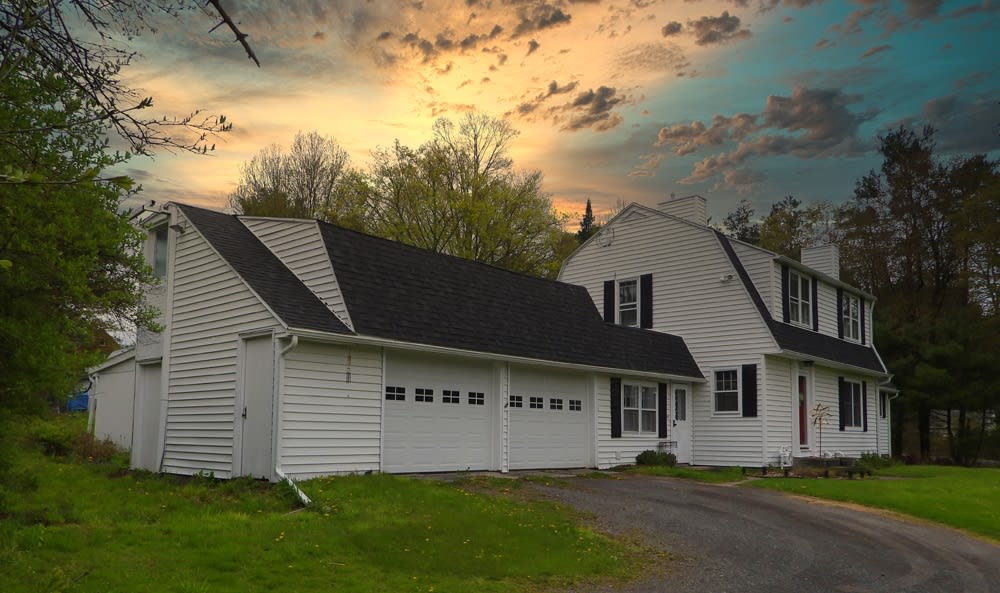 Dutch Colonial homes are a hallmark of Denver's history. The style was named for the Dutch immigrants that came to America during that time. This architectural style is known for gambrel roofs which are two-sided symmetrical roofs featuring slopes on both sides, dormers, and flared eaves that extend over the porches. The front of the home sometimes features a double Dutch doorway. The iconic look of the Dutch Colonial makes it as popular today as it was 400 years ago.
Farmhouse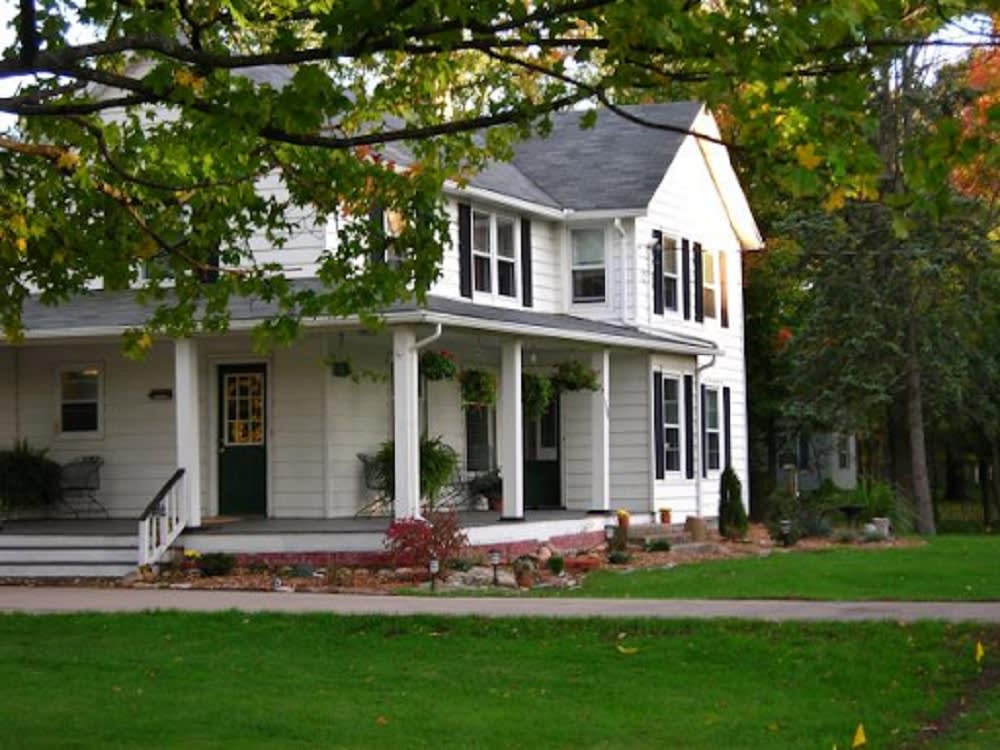 Farmhouse-style homes are popular in Colorado due to the ranching history of the state. These homes were originally built on rural plots of land and served a purpose for the farm. Farmhouse-style homes often have functional rather than decorative features like a large porch. The visible features incorporated often include other styles from that time period, such as Victorian and Colonial architecture. Some new homes are built in this style, or you might find them on the large lots that used to be the farmhouse in that area before the block was divided up.
Modern Builds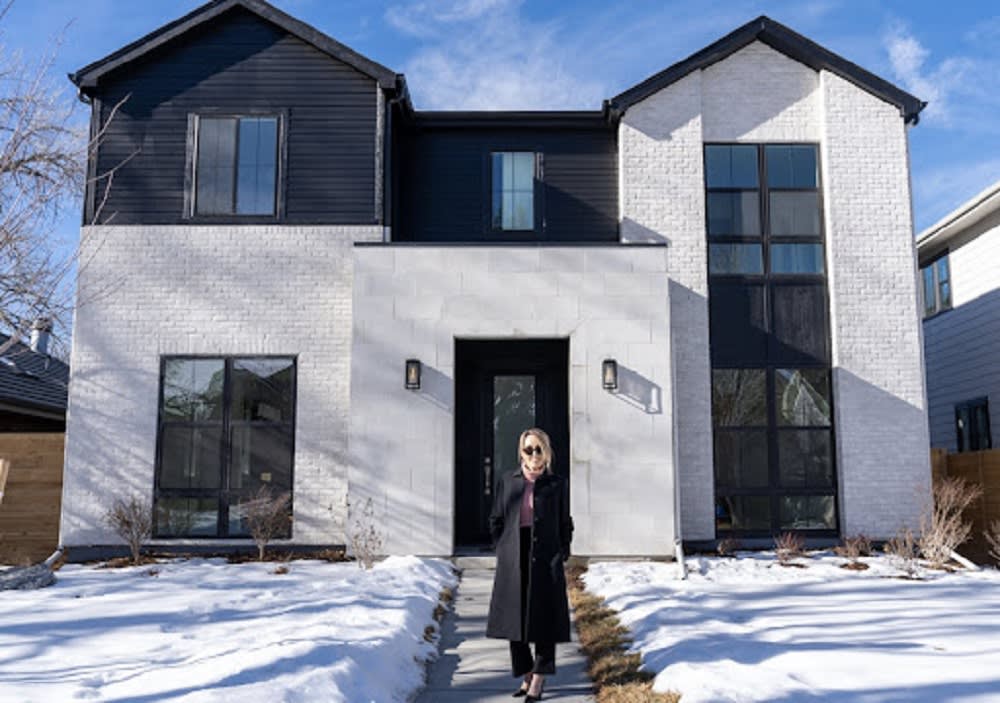 Photo courtesy of Kimber Ward
Although historic homes can be beautiful and full of character, Denver also has incredible modern builds that are filled with style and luxury. Modern homes are designed with clean lines, open layouts, and fresh color palettes that allow for the use and showcase of natural materials found in the Colorado wilderness. With large windows that allow plenty of light to flood inside, these homes are open and airy and feature the best modern amenities.
You will also find Modern Prairie homes, which feature low, horizontal roof lines, asymmetry, vertical accents of stone and wood, and expansive, open windows that invite nature into the house. Modern Prairie homes are influenced by the creative genius of Frank Llyod Wright, famous for his clean, simplistic mid-century modern architecture that favors nature-inspired looks.
Modern Farmhouse homes are another impressive design and draw from the popularity of the traditional Farmhouse style. These updated versions include beautiful, sturdy construction with large windows to enjoy the picture-perfect views of Colorado, as well as relaxing porches and intriguing accents like vertical siding.
If you're interested in exploring the amazing architectural styles of
Wash Park
,
Cherry Creek
, or
Platt Park
real estate in person, team up with me,
Kimber Ward
a leading REALTOR® "in the know" about all things Denver. I am the expert you want on your side. Reach out to me today.